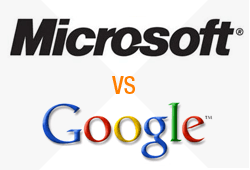 Microsoft surprised everyone this year when they
bought
a business-oriented social network Yammer for a ridiculous amount of money ($1.2 billion). Some thought it was brilliant. Others wondered why Microsoft was getting into an area they have no experience with. But maybe Microsoft knows something we don't. And Google knows the same thing.
Ever since the launch of Google Docs, the Big G and Mr. Softie have been direct competitors in productivity software. Microsoft still dominated, but Google was gaining a lot of traction, thanks to the much-cheaper Google Apps. And then Google launched a social network.
So what? That doesn't have anything to do with productivity software!
But Google and Microsoft knew better. Most people didn't see the connection, but Google clearly knew that a social network is a perfect fit for a suite of productivity apps. Sure, companies love their email and their word processors. But they also want to have a conversation with their colleagues online about sensitive topics without it getting out into the open. They want to make a post to an entire division and have it open for comments and feedback that everyone can see. They want to share photos and videos in one central place, without dealing with mailing lists. And that is why this year Enterprise Social Networks are such a hot item.
That's exactly why Google is making good on its promise from last year and
releasing
an enterprise version of Google+ for Google Apps customers. The biggest features include restricted posts, which cannot be shared with anyone outside the company. Google+ Hangouts are now incorporated not only into the Google+ page and Gmail but also into Google Calendar. Anyone can add a video conference to any calendar event, and the recipients just have to click a link inside the invitation to join the conference. Similarly, customers are encouraged to use the ability to collaborate on Google Docs during a Hangout. Finally, Google is adding a bunch of administrative tools to G+. "
To help make sure users are sharing only with the people they intend, administrators can now set company-wide
defaults for post restrictions
. They can also
enable restricted Hangouts
to facilitate private meetings within the company.
These features are rolling out now to Apps for Enterprise users and will be free at least until the end of 2013, while Google experiments with additional features and looks at user feedback.